As an Amazon Associate I earn from qualifying purchases. This post may contain affiliate links. See my full disclosures, Terms of Use, and privacy policies on my "privacy" page. I never recommend a product I don't love.
The fruit of the Spirit SELF CONTROL includes a Jesus-centered devotional you can use in a lesson, as well as a full "fruit of the Spirit: self control" lesson plan with an object lesson, coloring page and other activities.
---
Fruit of the Spirit SELF CONTROL for Kids!
Then Jesus was led by the Spirit into the wilderness to be tempted there by the devil. For forty days and forty nights he fasted and became very hungry.

During that time the devil came and said to him, "If you are the Son of God, tell these stones to become loaves of bread."

But Jesus told him, "No! The Scriptures say,

'People do not live by bread alone,
    but by every word that comes from the mouth of God.'"

Matthew 4:1–4 NLT
How many types of weapon can you think of? Swords, guns, knives, throwing stars, scimitars…that's as much as I know about weapons.
In your list, did you name the Bible?
Ephesians 6:17 talks about how we can protect ourselves against evil using the Armor of God. It says "take the sword of the Spirit, which is the word of God." (NLT)
It's kind of weird to think of the Bible as a weapon, isn't it? I mean, it's hard to protect yourself from an enemy with a book. Maybe if it was heavy enough you could knock someone out with it, but normally a book isn't a great weapon to bring to a battle. However, the Word of God isn't any old book!
The devil came to tempt Jesus when he was the weakest. We are often tempted when we are weak too. Maybe you don't understand the math problems you're supposed to hand in, so you look up the answers. Or maybe a kid at the park is being mean to you, so you push him off the equipment. Or you're super-duper hungry so you sneak the snack your mom told you not to have before supper.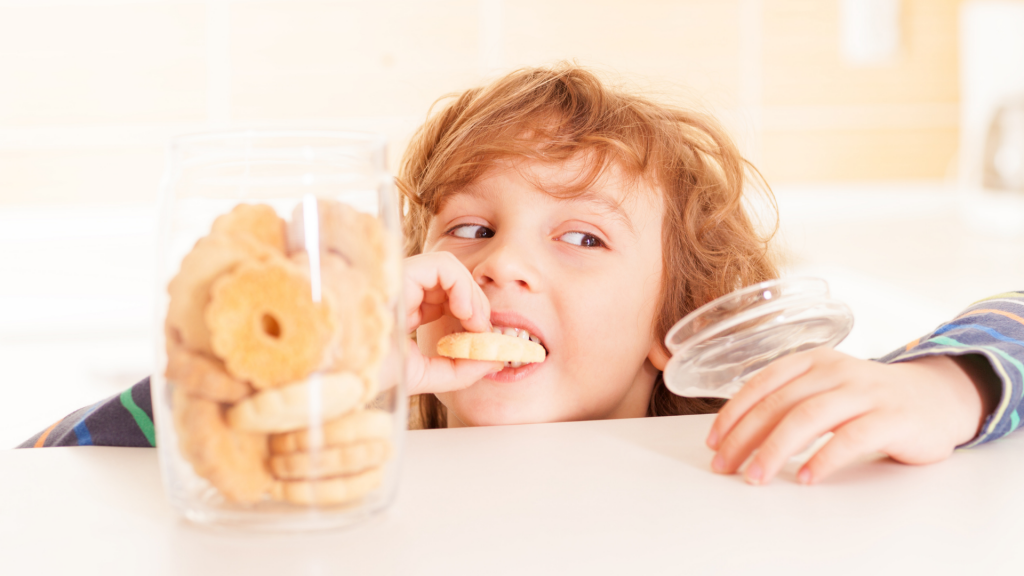 You can use the Word of God like a sword against the temptation. You can say a verse like this one: "For I can do everything through Christ, who gives me strength." (Philippians 4:13 NLT) or this one: "God blesses those who hunger and thirst for justice, for they will be satisfied" (Mathew 5:6 NLT).
This won't always be easy. Unlike us, Jesus was able to use his Sword of the Spirit to fight back against the sneaky temptations every single time. Because of that, he was the perfect sacrifice to take the consequences of sin from us. And when he came back to life, he brought the Holy Spirit with him to pass onto you.
Imagine the Holy Spirit like a mechanical arm that helps you swing your own Sword of the Spirit against temptations. Nothing can stand against you when you pair the Sword of the Spirit with the Holy Spirit.  
When you feel stuck, like you have no other choice but to sin, say "help me, Jesus!" That's the kind of prayer Jesus loves to answer with a great big "YES".
A fruit of the Spirit: SELF CONTROL lesson plan for children
Use this fruit of the Spirit: SELF CONTROL lesson plan for Sunday School or at home!
1. The Fruit of the Spirit SELF CONTROL Lesson:
Help children look up and read Matthew 4:1-4, then share the above fruit of the Spirit (self-control) devotion, stopping to discuss with the kids as appropriate.
After, ASK: What kind of temptations do you think Jesus had to say "no" to? / Tell me a Bible verse you have memorized.
*Remind kids that self-control grows when we get closer to Jesus and allow his power to work within us, not just by trying harder to be self-controlled.
2. PRAYER:
Thank you, Jesus for showing us what it's like to have self-control, but also for giving us the Holy Spirit so we can actually swing our own Sword of the Spirit. Amen.
3. FRUIT OF THE SPIRIT SELF-CONTROL ACTIVITIES:
Have fun with the memory verse! Hide under a table and whisper 2 Timothy 1:7, then stand on a chair and shout it!
Have kids make a poster of 1 Timothy 1:7 in fancy letters.
Have kids draw the tastiest dessert they can imagine, then discuss whether it would be hard to have self-control with that dessert.
Teach kids a breath prayer: As you breathe in, say "You have not given me a spirit of fear" and as you breathe out, say "but of power, of love, and of self-control."
Play the smile game! The point of the game is to try to get someone in your group to smile. Choose one person to be the guinea pig and the rest will do everything possible to make that person smile. Time how long it takes each person to crack a smile.
Have kids try out the object lesson on their own.
*As you share these activities, be sure to keep the conversation on the fruit of the Spirit SELF CONTROL gospel-based (meaning we emphasize Jesus' self-control and remind kids that the power of the Spirit is available to Christians).
---
Fruit of the Spirit Self Control Object Lesson
Enjoy this fruit of the Spirit Self-Control object lesson.
SUPPLIES: 2 glasses of red-dyed water, 1/4 cup baking soda, vinegar, and a large dish.
SAY: The red water represents us, and the baking soda represents the fear and selfishness living in our hearts. (Stir some baking soda into the water). The vinegar shows what happens when something makes us angry. (Add a splash of vinegar) All the junk inside us bubbles out, hurting others. ASK: What would happen if God cleared all that sin and selfishness out of our hearts? (Pour vinegar into a plain cup of water, no baking soda). When Jesus cleans us up on the inside, we won't spill over and hurt others around us anymore. We will still get angry, but it's much easier to have self-control when our hearts have been cleaned by Jesus.
A fruit of the Spirit: SELF CONTROL coloring page
Download and print this entire package of fruit of the Spirit coloring pages and activities, including this SELF CONTROL coloring page featuring 2 Timothy 1:7. This coloring page is available in 4 translations.
---
See my other Fruit of the Spirit Lesson Plans here:
🍎 The Fruits of the Spirit for Kids: A Gospel-Centered Approach
🍊 The Fruit of the Spirit LOVE: lesson plan and activities
🍌 The Fruit of the Spirit JOY: lesson plan and activities
🍓 The Fruit of the Spirit PEACE: lesson plan and activities
🍇 The Fruit of the Spirit PATIENCE: lesson plan and activities
🍏 The Fruit of the Spirit KINDNESS: lesson plan and activities
🍓 The Fruit of the Spirit GOODNESS: lesson plan and activities
🍑 The Fruit of the Spirit FAITHFULNESS: lesson plan and activities
🍋 The Fruit of the Spirit GENTLENESS: lesson plan and activities
🥝 The Fruit of the Spirit SELF CONTROL: lesson plan and activities