As an Amazon Associate I earn from qualifying purchases. This post may contain affiliate links. See my full disclosures, Terms of Use, and privacy policies on my "privacy" page. I never recommend a product I don't love.
The fruit of the Spirit GENTLENESS includes a Jesus-centered devotional you can use in a lesson, as well as a full "fruit of the Spirit: gentleness" lesson plan with an object lesson, coloring page and other activities.
---
Gentless As Fruit of the Spirit (instead of as a virtue)
Do not resist an evil person! If someone slaps you on the right cheek, offer the other cheek also.If you are sued in court and your shirt is taken from you, give your coat, too. If a soldier demands that you carry his gear for a mile, carry it two miles.

Matthew 5:39–41 NLT
When you read these verses, did something inside you think, "I could never do that?" It feels like weakness to us, doesn't it? No one likes to feel weak.
Would you believe me if I told you that what Jesus taught in this passage is actually a show of power?
In Jesus' example of getting slapped on the cheek, a weak person would crumple into a ball and cry in the corner. A powerful person would slap back, maybe with an extra punch thrown in. But it actually takes enormous power and self-confidence to stand tall, refuse to take revenge, and turn the other cheek.
In the Bible, Jesus is called the Lion of Judah. He's powerful like a lion, and has the ability to immediately force every human being to bow down and worship him.
But he doesn't. Jesus is also called the Lamb, because he willingly allowed his enemy to slap him on the other cheek…and nail him to a cross.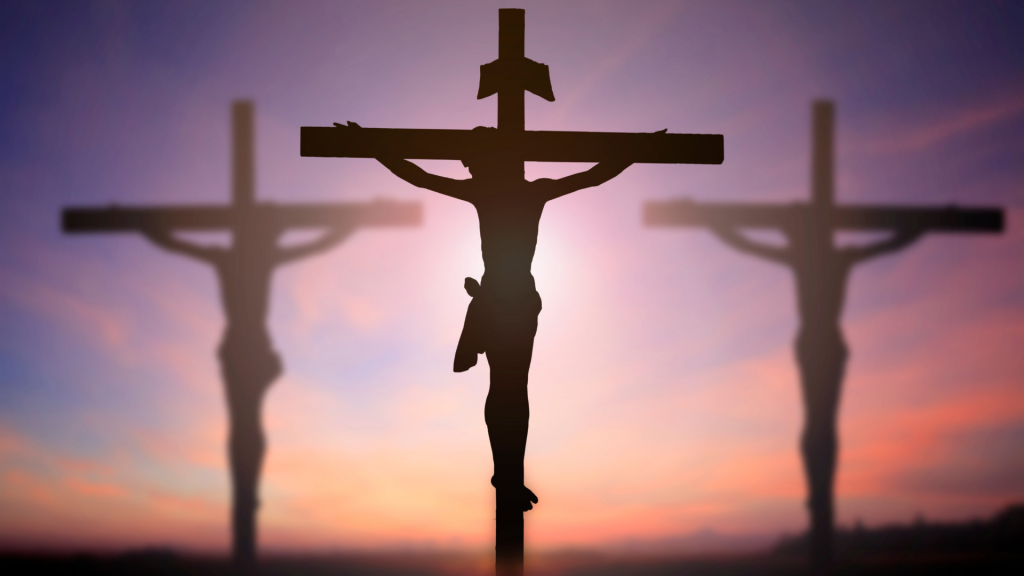 Jesus didn't go to the cross because he was weak. He allowed himself to be killed because he had a mission to accomplish.
When John received a vision of heaven he "heard the voices of thousands and millions of angels around the throne and of the living beings and the elders. And they sang in a mighty chorus:
'Worthy is the Lamb who was slaughtered—
    to receive power and riches
and wisdom and strength
    and honor and glory and blessing.'"

Revelation 5:11,12 NLT
No one worships a weakling! Jesus is not sometimes the Lion and sometimes the Lamb.
He is 100% Lion of Judah. He has always had the power to blast his enemies to smithereens or turn our planet to dust and start again. But because he is also 100% Lamb of God, he chose to turn the other cheek and allow death, because he knew his death and resurrection was the only way to a relationship with you.
Every day, you have the choice to react out of weakness, power, or gentleness.
Choosing gentleness isn't going to be easy. If someone slaps me on the cheek, my first instinct won't be to turn the other cheek. And honestly? I get it wrong a lot of times, and so will you. We'll mess up. We'll act out of weakness or pretend to be powerful instead of showing gentleness. But Jesus walked the path of gentleness so you could be forgiven. Even though that path is impossible for us to travel on our own, never forget that because of the sacrifice of the Lamb of God, the incredible power of the Lion of Judah lives inside you.
Examples of gentleness in the Bible
Because this is a gospel-based lesson emphasizing Jesus's gentleness toward us, here are some examples of Jesus being gentle: (by the way, my book, Fruit Full, has a devotion on each one of these passages, plus a few extra!)
When Jesus comes to Jerusalem, he rides a donkey instead of a warhorse, symbolizing the kind of king he is.
Tell the people of Jerusalem,
    "Look, your King is coming to you.
He is humble, riding on a donkey—
    riding on a donkey's colt."

Matthew 21:1–5 NLT
2. When Jesus comes in contact with a loathed tax collector, instead of lecturing, he invites himself over.
When Jesus came by, he looked up at Zacchaeus and called him by name. "Zacchaeus!" he said. "Quick, come down! I must be a guest in your home today."

Luke 19:5 NLT
3. When presented with children, Jesus gathered and blessed them.
Then Jesus called for the children and said to the disciples, "Let the children come to me. Don't stop them! For the Kingdom of God belongs to those who are like these children. I tell you the truth, anyone who doesn't receive the Kingdom of God like a child will never enter it."

Luke 18:16–17 NLT
4. When his disciples bickered about who was the Most Important, Jesus reminded them of this:
But Jesus knew their thoughts, so he brought a little child to his side. Then he said to them, "Anyone who welcomes a little child like this on my behalf welcomes me, and anyone who welcomes me also welcomes my Father who sent me. Whoever is the least among you is the greatest."

Luke 9:46–48 NLT
5. When Jesus promised to bring rest:
Then Jesus said, "Come to me, all of you who are weary and carry heavy burdens, and I will give you rest.Take my yoke upon you. Let me teach you, because I am humble and gentle at heart, and you will find rest for your souls.For my yoke is easy to bear, and the burden I give you is light."

Matthew 11:28–30 NLT
6. When asked to condemn a woman caught in adultery, Jesus reminds her accusers that none of them are sinless, and they leave.
Then Jesus stood up again and said to the woman, "Where are your accusers? Didn't even one of them condemn you?"

"No, Lord," she said.

And Jesus said, "Neither do I. Go and sin no more."

John 8:10–11 NLT
A fruit of the Spirit: GENTLENESS lesson plan for children
Use this fruit of the Spirit: GENTLENESS lesson plan for Sunday School or at home!
INTRODUCTION:
(To turn this intro into a gross motor activity, designate one side of the room for the big animal and the other side for the small animal. Have children run to the side of their choice.)
ASK: Would you rather be a bear or a bat? Would you rather be a wolf or a worm? Would you rather be a whale or a snail?
ASK: Why did you make that choice?
2. The Fruit of the Spirit GENTLENESS Lesson:
Help children look up and read Matthew 5:39-41, then share the above fruit of the Spirit (gentleness) devotion.
After, ASK: We often think of gentleness as being weakness, but gentleness is actually best shown when someone very powerful keeps their power under control, like a lion choosing to love a lamb. Can you think of some examples of Jesus showing gentleness in the Bible?
*Remind kids that gentleness grows when we get closer to Jesus and discover his amazing gentleness with us, not just by trying harder to be gentle.
3. PRAYER:
Jesus, you are Lion and Lamb, powerful and gentle. Please teach us to use our power gently. Amen.
4. FRUIT OF THE SPIRIT GENTLENESS ACTIVITIES:
Invite kids to draw a picture of a powerful person/animal being super gentle with someone who is weak (for example, a wolf caring for a hamster). Then, have them write Philippians 4:5 at the bottom of the page. (Or, if your group is pre-writing, write it for them!) You can also have kids speak Philippians 4:5 in a loud, power voice then have them imagine they are holding baby birds, and say it again.
Teach kids a breath prayer: As you breathe in, say "You are near" and as you breathe out, say "your gentleness is here."
For bigger kids, have them look up Hosea 11, which shows God's reaction to Israel when they've disobeyed repeatedly. Which verses show power and which show gentleness?
Play the "gentle game" with a family member. One person closes their eyes and the other has to touch them as gently as possible. What part of the body did they touch? (Remind kids: NO inappropriate touches! Use heads, backs, feet, and shoulders.)
*As you share these activities, be sure to keep the conversation on the fruit of the Spirit GENTLENESS gospel-based (meaning we emphasize God's amazing gentleness with us, rather than our efforts to be gentle).
---
Fruit of the Spirit Gentleness Object Lesson
Enjoy this fruit of the Spirit Gentleness object lesson based on an Aesop's fable called "The Wind and the Sun"
SUPPLIES: The biggest fan you can find, a jacket, and a heater.
Put on the jacket and ask the kids which of the two items (fan or heater) will get you to take the jacket off sooner.
As you turn on the fan, pull the jacket tight around yourself.
SAY: It seems like the powerful wind would be the best way to get me to remove my jacket, but it only makes me pull it tighter! In the same way, when we try to force someone to do something by being harsh with them, they don't want to do it.
Then, turn on the heater. As you stand in front of it, act like you're getting hot and sweaty. Take off the jacket.
SAY: Wow, that heater didn't seem very powerful, but it got me to take off my jacket! In the same way, being gentle with people is the best way to get them to listen to you and help them change. The Bible says that it's God's kindness that leads us to repentance. It's not his harshness or forcing us to apologize that changes our hearts – it's his gentleness and kindness. Do you find that surprising?
A fruit of the Spirit: GENTLENESS coloring page
Download and print this entire package of fruit of the Spirit coloring pages and activities, including this GENTLENESS coloring page featuring Philippians 4:5. This coloring page is available in 4 translations.
---
See my other Fruit of the Spirit Lesson Plans here:
🍎 The Fruits of the Spirit for Kids: A Gospel-Centered Approach
🍊 The Fruit of the Spirit LOVE: lesson plan and activities
🍌 The Fruit of the Spirit JOY: lesson plan and activities
🍓 The Fruit of the Spirit PEACE: lesson plan and activities
🍇 The Fruit of the Spirit PATIENCE: lesson plan and activities
🍏 The Fruit of the Spirit KINDNESS: lesson plan and activities
🍓 The Fruit of the Spirit GOODNESS: lesson plan and activities
🍑 The Fruit of the Spirit FAITHFULNESS: lesson plan and activities
🥝 The Fruit of the Spirit SELF CONTROL: lesson plan and activities