As an Amazon Associate I earn from qualifying purchases. This post may contain affiliate links. See my full disclosures, Terms of Use, and privacy policies on my "privacy" page. I never recommend a product I don't love.
Bible storybooks are a fabulous way to introduce your kids to the Bible. But how can you find the best Bible storybooks for your family?
Like other storybooks, good Bible storybooks have great illustrations and are well-written.
Unlike other storybooks, Bible storybooks share a broad spectrum of Scripture, from Genesis to the New Testament. 
When should you choose a Bible storybook over the actual Biblical text?
When you are starting a new habit, and need something simple that will engage your kids. It's much easier to start a habit of reading the Bible if your children are actually paying attention. 
When your kids are very young. Picture always help little kids pay attention. Right? (Caveat: you can actually read small chunks of actual Biblical text with your young children, but I would recommend that you give them something to do with their bodies while you read.)
When you didn't grow up in the Christian faith. If Christianity is new for you, do yourself a favor and learn along with your kids by reading a good storybook Bible. You can always go deeper later, once you have a better feel for what's actually in the Bible!
When you want to give your kids a good overview of the Bible. A good storybook Bible will have the stories in either chronological order, or the order found in the Bible. This is helpful for kids to understand that the Bible isn't a bunch of isolated stories, but that it points to God's big rescue plan.
How do you find the best Bible storybooks?
I should warn you that Bible storybooks are available everywhere (even the Dollar store!), and a lot of them aren't great.
How can you find a good one within just a couple page flips?
A good Bible storybook has God as the hero. Since the Bible is the story of God revealing Himself to people, your Bible storybook should talk about God. A lot. If God/Jesus is not mentioned in every story, don't waste your time. You may learn the facts of Bible stories if you pick up a people-centered book, but your children won't be changed by a relationship with God if all they hear is Bible facts.
There is no number 2. If you like the illustrations and it is God-centered, you're good!
Best Bible Storybooks for Toddlers:
The Rhyme Bible Storybook
With perfect rhythm and rhyme and excellent illustrations, "The Rhyme Bible Storybook" is sure to snag your toddler's interest.
The Beginner's Bible
"The Beginner's Bible" is written in prose, and the stories are nice and short. Perfect for a squirmy toddler!

*Caveat: I don't find this one particularly God-centered. Be aware that you'll need to weave God into some of the stories. I do like that my early reader can read it on his own, so I'd recommend it more as a supplement than as the ONLY Bible.
The Tiny Truths Illustrated Bible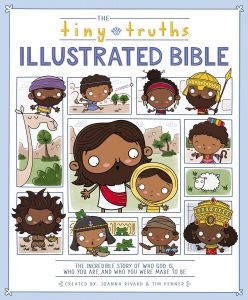 The Tiny Truths Illustrated Bible is, first, adorable, and second, very God-focused. Another unique attribute of this Bible is that the characters are illustrated as much more diverse than a normal children's Bible, with most of the main characters looking appropriately Middle Eastern.
Best Bible Storybooks for Preschoolers
I Am: 40 reasons to trust God
This Bible storybook is truly unique, in that it shares important stories from the Bible through the lens of what God reveals about himself. Each story demonstrates a name for God, so not only will kids have a good idea of the chronological stories of the Bible, they'll have a much deeper understanding of who God is.
Wise for Salvation
If you're looking for an interactive storybook Bible, this book has you covered! We used this one almost exclusively for multiple years when our boys were 2-6 years old.
With 5 interactive (but no-prep and simple) suggestions for each of the 86 stories, this one will have your kids begging for Bible reading time, plus they'll know the stories and how the stories apply to their lives. Also includes a prayer at the end of each story.
My First Hands-On Bible
This one is quite fun as well. Each story is taken directly from the NLT Bible and has little actions to do in the middle of the story, to keep your child engaged. It also has other activities and prayers at the end of each story for those who want more.
Love Letters From God: Bible Stories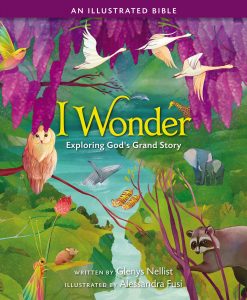 This is a newer storybook Bible, and I've just finished reading it with my 7-year old. I love that there are some unusual Bible story choices (like Nehemiah) as well as several stories told from the perspective of the women. I found that both unusual and very refreshing. The text is lyrical and true to the Biblical account, and the "I Wonder" questions have led to some very interesting conversations with my son! Because it uses some different characters and angles, I highly recommend this storybook Bible if you'd like something more…fresh.
The Jesus Storybook Bible
This one needs little introduction as it seems like everyone has heard of it. But in case you haven't, this Bible storybook ties the whole Bible together as one big story that all points to Jesus. Its lyricism and poignant reminders of God's love have brought many an adult reader to tears.
Best Bible storybooks for elementary kids
The Action Bible
The Action Bible has been a huge hit with elementary-age kids (and even teens)! There are multiple versions of this, including a devotional version and even a shorter one for younger kids. My 8-year-old often picks this one up to read through on his own, and one time I even caught him reading it in the bathroom. That sounds like a winner to me!
The Biggest Story
This is an excellent book for reading with an elementary-age child – it tells the whole story of the Bible in a cohesive way, in chapter-book-with-pictures format. It's a bit like the Jesus Storybook Bible in flavor, but written more like a chapter book, for bigger kids.
More Book Lists!