As an Amazon Associate I earn from qualifying purchases. This post may contain affiliate links. See my full disclosures, Terms of Use, and privacy policies on my "privacy" page. I never recommend a product I don't love.
Un-rest (noun) 
A feeling of disturbance and dissatisfaction in a person
A state of dissatisfaction, disturbance, and agitation in a group of people
Have you ever lived in a state of unrest? Being tugged in every direction, paperwork on every corner, appointments busting out of the calendar?
It stinks to live in a state of unrest, but my friend, it is just as bad to live with a feeling of unrest deep in your soul. You know the feeling – like no matter how much water you drink or me-time you get, there's always that parched bit of soul that never feels satisfied. No inner peace.
It's possible to live with a feeling of unrest even when we live in a state of rest. We can watch Netflix till our eyes crust over and have weekly manicure appointments, but those will not satisfy that parched bit of soul.
Likewise, it's possible to live in a state of unrest and chaos and still have a complete sense of rest on the inside. That's what we call "inner peace".
REST.
The word popped out at me from the notes at the beginning of my Bible. (I know, I'm a dork and read the language notes…) It talked about one of the Hebrew words for rest.
It said, this word "can pertain to relaxation or refreshment, but more often refers to experiencing stability, security, and equilibrium – every as it ought to be. God's rest is associated with his presence in the temple and his rule of the cosmos. Rest is the opposite of unrest and when God rests he is not disengaging, but engaging."  <–  we'll come back to that!
True rest, or true inner peace, comes from God's presence and rule in our lives. Not from escaping our lives, but by inviting God in deeper.
Inner peace isn't found at a gym, inside a bowl of ice cream, or even deep inside yourself. Those might bring a temporary sense of calm, but true inner peace can only be found when God is the boss of my life.
I'd like to give you three word pictures about what REST truly involves.
(1) True REST comes from proximity to God.
"About Benjamin he said,
'Let the beloved of the LORD rest secure in him,
for he shields him all day long,
and the one the LORD loves rests between his shoulders.'"
Deuteronomy 33:12
Somehow, just a few days after a c-section, I managed to wrap this 10 foot piece of fabric around me and my newborn and make it look like it was on purpose. I walked a couple inches taller that day, rejoicing in the closeness of the little guy I had just met.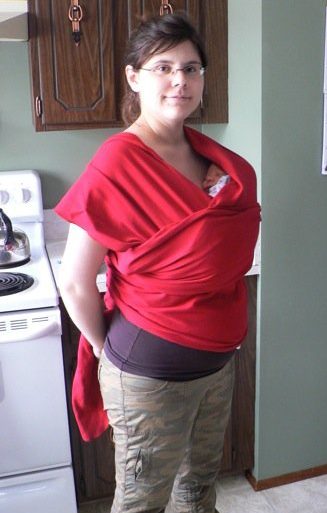 He was SO safe there, right between my shoulders. Next to his mama's heart.
Imagine the love I felt just then.
It was tinged with pride and hope and excitement and a lioness-fierceness to protect him always.
Now multiply that by the universe.
God loves you at least as much as I loved that baby in that moment, and the place of true rest is right between his shoulders. Next to your Maker's heart.
(2) True REST comes from building a life on God
In Matthew 7:24-27 Jesus tells a story about a dude who built a house on a big rock. Very smart fellow, because when the storms of life came, he was safe and secure.
It wasn't the house he built that was safe (he probably used the same building materials as the unfortunate fellow down on the beach), but the foundation. 
Jesus prefaces this little story by saying that "anyone who hears these words of mine and puts them into practice" is like the man who built on a good, solid foundation.
Mr. Wise Man was able to have complete rest on the inside even during a seriously unrestful storm.
Why? Because he built on the right foundation. He had stability, security, and equilibrium. <–remember that definition above?
We can't simply hear the words of God and expect to have inner rest. Yes, we're saved, but God also wants to change us. We have to hear the words of God *and put them into practice*.
For some of us, that might mean we start by intentionally hearing the words of God more often. We all have our own journey, so I can't tell you what exactly that means, but I pray that this is the year you start listening more to God's words.
(3) True REST comes from being connected to God
"I am the vine; you are the branches. If you remain in me and I in you, you will bear much fruit; apart from me you can do nothing." (John 15:5)
I have many types of fruit growing in my tiny little yard, but the most unusual (in my area) are the grapes. To my utter surprise, each year we pick several handfuls of the tart little jewels, and this year there was almost a whole box.
The little grapes apparently need very little loving, but there is something they do need: the vine. If I cut the cluster off the vine when they were green, they wouldn't ripen. It seems rather obvious, doesn't it?
Yet we think we can go day after day, not connecting with our Vine, and expect to grow spiritual fruit. We practically snip ourselves off the vine and wonder why we have such trouble finding love, joy, and peace in our lives. Oy.
Inner peace is connected to "God's rest"
In the Old Testament, God's rest was associated with his presence in the temple. We no longer have a temple, because God's presence is now with us. Now, God's rest is associated with his presence in our lives. (And yes, we can be Christians and still have no sense of God's presence.)
So that is my word of the year. Rest. And I won't find it by taking more naps (although I do love a good nap!), but by seeking His face. For He promises,
"You will seek me and find me when you seek me with all your heart." (Jeremiah 29:13)
You may also like 3 truths to remember when you're anxious
Photo by Aaron Burden on Unsplash