As an Amazon Associate I earn from qualifying purchases. This post may contain affiliate links. See my full disclosures, Terms of Use, and privacy policies on my "privacy" page. I never recommend a product I don't love.
Developing a thankful heart in our kids is a top priority for many families, and one that becomes a bigger priority when autumn (and Thanksgiving) rolls around!
So I cooked up some easy and fun ways to help my kids express gratitude, particularly around the holiday season. 
If you're looking for a fun way to encourage thankfulness in your family, consider creating a Thankfulness Tree. This is the one we had a few years ago. We added to it afterward but I neglected to take a picture when it was more full of leaves.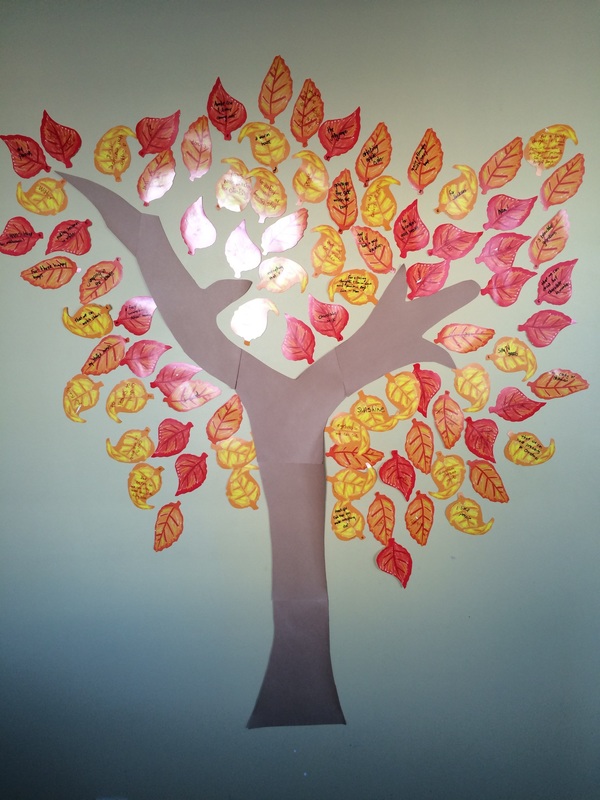 For one season I hung this tree in our front entryway, and during another Thanksgiving season I hung it in our kitchen. I created the paper tree out of butcher paper and attached some pre-cut leaves.
The following pictures are from my friend's house – her teen daughter made this one with her friend!
The year we had our Thankfulness Tree in the entrance, it was the first thing that you saw when you walked in the door. We invited family and guests to write something they were thankful for on each leaf. I left a marker by the door so that anytime my kids thought of something, we added it to a new leaf.
Everyone that came through the door commented on it, and usually wanted to add their own thoughts. (even salespeople!)
If you like this idea but aren't sure how to pull it together, never fear! Here's your 4-step method to make your own tree. (PS Download this guide as well as some printable leaves for the frugal mom who doesn't want to buy pre-cut ones!)
How to Make a Thankfulness Tree
1. Decide how big you want your tree to be and find appropriately-sized brown paper for the trunk. (Your local dollar store should have rolls of plain brown butcher paper if you want it wall-sized.)
2. Cut trunk. Fix to wall using Scotch or Mavalus Tape
. (*don't use masking, packing, or duct tape!)
3. Choose your leaves. You can
a. use pre-cut leaves from a craft or education store.
b. cut your own leaf-shapes from paper scraps.
c. print and cut your favourite printable leaves .
4. Write your thanksgiving on each leaf! I recommend that you leave a pen/marker at the front door and ask all guests and family to write on your Thankfulness Tree as they enter/leave your home.
** This isn't just for Thanksgiving! One year I bought a paper Christmas tree (from an educational supply store) and we filled up the understory with pictures of gifts that had our writing on it. **
If you're looking for other simple ways to help grow your child's faith, check out my "Start LITTLE" guide, to help you embrace the small changes that make the biggest differences! Download it here.