As an Amazon Associate I earn from qualifying purchases. This post may contain affiliate links. See my full disclosures, Terms of Use, and privacy policies on my "privacy" page. I never recommend a product I don't love.
Check out this enormous list of the best audiobooks for families! You won't regret listening to stories instead of vegging with screens.
---
We bought our minivan used, so we didn't have the option of a built-in DVD player. For our first family vacation with 3 kids, we installed a portable DVD player, proud that we had joined the 21st century with our parenting moves.
Only it turned out to be a BAD move.
The kids begged for movies from the first moment they stepped in the van, were quiet for a big while the DVD was on, then were SUPER cranky anytime the movies turned off.
I hated it. To me, the temporary quiet wasn't enough to override the awful attitude my kids had before/after watching their movies in the van.
Here's what we did instead
So we dumped the DVD player and started making much better use of our CD player.
Our family is truly lucky to have an aunt who records stories for our kids on CD, so we started with those.
Then we moved to short stories from our favorite radio program (The Vinyl Cafe), Adventures in Odyssey, and eventually to 10-hour long middle grade novels.
My boys are 10, 7, and 5, and we've been listening to audio stories for several years now. I couldn't be happier with the results.
Benefits of listening to audiobooks
Audio stories
pull our kids into a storyworld and plot
increase their attention span (because they need to follow along without pictures)
grow their imaginations
fall in love with books
Oh, and when we listen to stories, my kids don't get cranky like they did when they had screen time in the van!
Where to find audiobooks for your family
The best place to find audiobooks for your family is your local library. They might physical audiobooks on CD (our library has 2 full shelves!), or your library probably also has an app like Overdrive or Libby.
If you're looking for audiobooks for preschoolers, most libraries have a section of picture books that come with a CD. Then you can give the book to your child and have the CD read to them while you drive!
If you don't have a great library, I highly recommend an Audible.com subscription.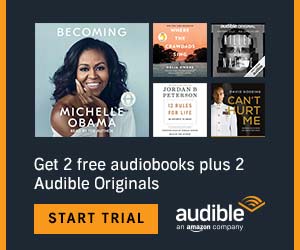 Best Audiobooks for families
So hopefully I've convinced you to give this a try! I polled my Instagram audience to see which audiobooks they enjoyed with their kids, and here's our enormous list of the best audiobooks for families!
1. Best Audiobooks for Preschoolers
Anything by Robert Munsch. Your kids will be giggling all the way to grandma's house! These are fairly short, so I recommend trying to find a compilation if possible.
Anything by Dr. Suess
I know that wasn't much of a list, but here's the thing: your preschool can listen to almost anything your elementary kids find fascinating. You DON'T have to get specific books for your preschooler!
My little guy didn't talk until he was 3 1/2 years old, but that didn't keep him from listening to and enjoying long involved stories. Hearing good language is actually VERY good for little kids, and is especially important for kids with speech delays.
2. Traditional fiction audiobooks for families
These are old oldies but goodies, and I can almost guarantee you'll be able to find them at your local library.
Chronicles of Narnia
Books by Beverly Cleary (like Ramona Quimby and Henry Huggins)
Charlotte's Web
The BFG by Roald Dahl
The Boxcar Children
Heidi
Wind in the Willows
Trumpet of the Swan
Stuart Little
The Little House series
I also recommend this exhaustive post from Modern Mrs. Darcy on the topic!
3. Modern fiction audiobooks
To be honest, our family can get a little bored by the traditional books. If you're like that too, you'll want to check out these adventure-packed stories that you AND your kids will love. I've included Amazon links to these ones, since your library might not have them (yet).
4. Christian fiction audiobooks for families
If you want something with a faith aspect, check out these options. I haven't listened to them all – most were recommended by my Instagram followers.
5. Best Podcasts for families
If you struggle to find audiobooks OR they're just too long for your kids' attention span, here are some really great podcast options that my kids have all loved.
Did you know that listening to audiobooks and podcasts can be an easy way to help your kids grow in their faith? check out my "Start LITTLE" guide.