As an Amazon Associate I earn from qualifying purchases. This post may contain affiliate links. See my full disclosures, Terms of Use, and privacy policies on my "privacy" page. I never recommend a product I don't love.
A huge thanks to Lisa from Graceful Abandon for this fabulous article on teaching kids to pray!
---
You teach your kids to tie their shoelaces, to put on their shirts with the tag in the back, and to stop picking their noses. You teach them how to do math, how to navigate unkind kids on the playground, and how to smile sweetly when Grandma gives them a kiss even though it's weird. 
And you also get the immense and precious privilege of teaching them to pray.
Can I Teach My Kids To Pray?
Have you ever wondered if you're equipped to teach your kids to pray? After all, you're not a pastor, a missionary, or even a Sunday school teacher. You're just their mom.
But that, precious mama, is what makes you the PERFECT person to teach them. God entrusted your kids to you and He has given you everything you need to do it.
"Lord, teach us to pray, just as John taught his disciples." (Luke 11:1, NIV)
Those closes to Jesus asked Him to teach them to pray. They watched Him pray often, of course, but they still asked. What does this show us, as moms, about teaching our children to pray?
It's so important! And Jesus showed you just how to do it.
The Tools You Need To Teach Your Kids To Pray
What tools do you need to teach your kids to pray?
Love: you love them, you love God
Patience: teaching our kid anything takes patience
Time: praying with kids isn't a quick thing; it take time to be set aside
the Bible: follow Jesus' example and you can't go wrong!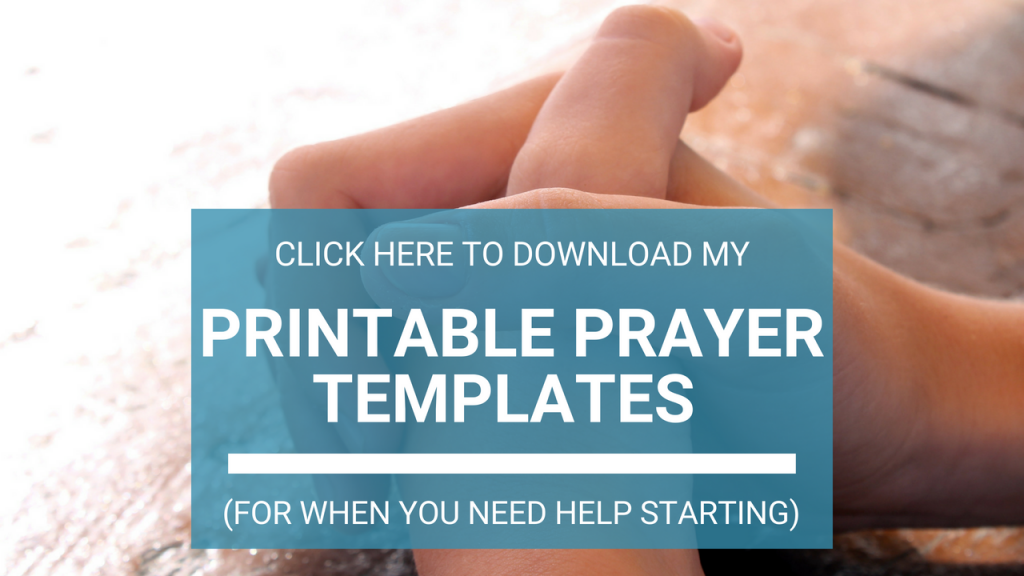 Teaching Kids To Pray By Example
Have you ever noticed your kids watching you? They don't miss anything (especially the things you wish they would miss!).
Kids notice the things you do day in and day out, they notice the exceptions to the schedule, and they notice the mistakes you make along the way. They hear what you say, but even more? They watch what you do.
So the very first step in teaching your kids to pray is leading by example, just like Jesus did for His disciples. Literally, you teach your kids to pray when they see you do it, Mama.
Teaching Kids To Pray By Talking About It
But in Luke 11, Jesus' disciples, who had undoubtedly watched Him pray dozens (hundreds?) of times, still asked Him to teach them. And He did.
We ought to follow Jesus' lead and intentionally talk to our kids about prayer and how to do it.
And it's not hard; Jesus Himself gave us the roadmap in the Bible. All we have to do is follow His lead. Using the Lord's Prayer to teach kids to pray is a great place to start. 
1. Who God Is
Start by talking with your kids about who God is. This will teach them to honor Him and understand His holiness.
Jesus had His disciples pray to their Father, which was a close relationship and one of comfort and closeness. Teaching your kids to run to "Daddy" with needs is a beautiful gift.
And when you teach them young, you lay a foundation for them to continue to do so when they are entering their teens and even into adulthood.
RELATED: A simple way to teach kids to pray (+ free printables!)
2. God's Will Over Our Own
Also in the Lord's Prayer is an understanding that God's will be done, not ours. So it's less "give me a new bike" and more "give me the good things You have for me."
You can teach your kids to share with God the desires of their heart, but prayer time is also a precious time to help teach them to desire the things of God.
This doesn't have to be a huge lecture each day or anything crazy like that, simply little examples where they watch you live it out.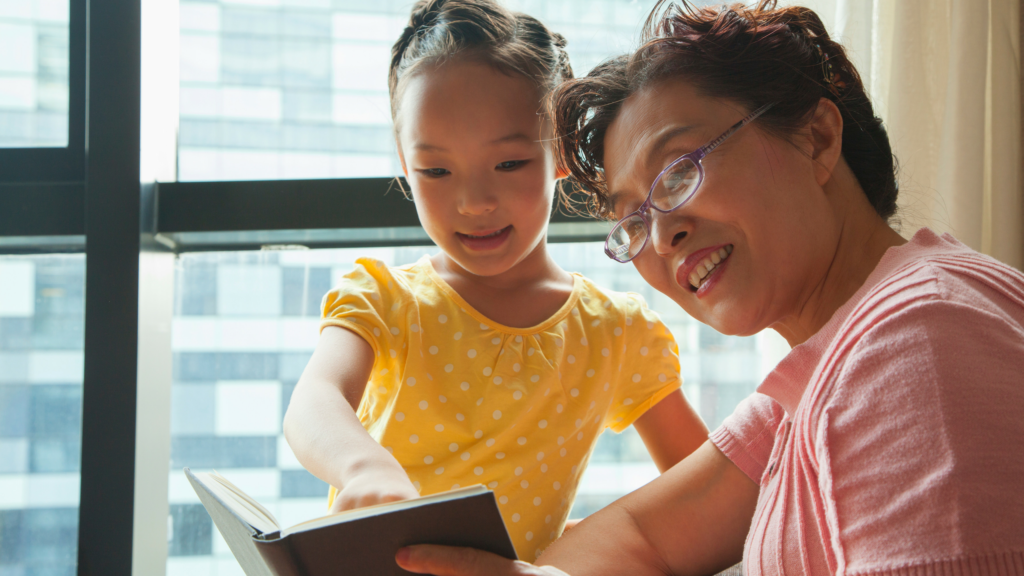 3. Repentance/Forgiveness
We often make our kids apologize to the sibling they took a toy from, the person they were rude to, or the parent they yelled at in their latest tantrum.
But it's essential we first model for them and then teach them that all of our sin hurts God and we need to repent of it.
And then you can share with them the joy and delight in the promise of His forgiveness (1 John 1:9).
As soon as they can understand that, you can begin teaching them to extend that same gift of forgiveness to those who have wronged them, even leading them to pray for that person.
RELATED: The three powerful words every child needs
4. For Daily Living
Lead us not into temptation, but deliver us…
Powerful words for adults and teenagers, but less potent for children who don't consciously understand the allure of sin yet. However, by praying aloud around our children, we can model it for them. 
And we can talk about times they might feel tempted and how prayer is the perfect solution.
Teaching Kids To Pray By Doing It Together
And then you just do it. There are times it will be so natural to pray together, and you should pray together then.
When you sit down to eat a meal together, pray.
When someone falls and gets hurt, pray.
When someone's heart is broken because someone was mean, pray.
When there is loss, pray.
But don't neglect the less obvious calls to prayer, either!
Before they study, pray for a clear mind.
Before they go on a play date, pray for kind hearts.
When someone gives a gift they enjoy, thank God as well as the person.
When they are heading off to school, pray.
Your kids love to be with you and spend time with you; they'll be eager to pray with you, too. Make some times special (like when you do family devotions), but also just jump into any moment that presents itself with a quick prayer (like when you bump into a friend who is sick and you say a prayer for them to be healed).
The Legacy Of Prayer
Teaching your kids to pray is the ideal way to have teenagers that pray and adults who talk to God. That's why Deuteronomy 6:7-9 tells parents to diligently teach their children to walk with God.
Modeling prayer, talking about prayer, and praying with your kids creates a legacy of faith that will be more strongly anchored in their hearts than any book, video, or lesson at church ever will. You have a unique bond with your kids and a special influence, given to you by God.
Other Articles on Praying with Kids: