As an Amazon Associate I earn from qualifying purchases. This post may contain affiliate links. See my full disclosures, Terms of Use, and privacy policies on my "privacy" page. I never recommend a product I don't love.
One year, my preschooler announced, "Mom, Christmas is really about the presents…"
I waited with bated breath for the rest.
"…because God gave us Jesus!"
Phew!
When my middle son was 3, he encountered Christmas for the first time in his memory. When we visited my in-laws at the beginning of December, he paid no heed to the beautiful nativity scene they had displayed. During our next visit 3 weeks later, he very excitedly told me, "Grandma and Grandpa have a stable!"
Somewhere in those intervening 3 weeks, something had clicked about the Christmas story.
As a former Children's pastor, mom, and Preschool Director, I believe that our kids learn best through play. As adults, we tend to fill our home with beautiful (and breakable) nativity scenes and try to pack a full reading of Luke 1 and 2 into our Christmas Day. But our kids learn best by encountering the Christmas story through books and play.
>>Related Reading: 8 Kid-Approved Ways To Have A Christ-Focused Christmas
YOU MIGHT NEED THIS LIST IF…
you find yourself barrelling toward Christmas, frustrated about the lack of focus to your December.
you want to share the Christmas story with your child, but he's too young to sit and listen to a big passage of Scripture.
you have a large extended family gathering and want to bring the story of Jesus' birth in a simple way.
you just want your kids to open one gift that reminds them of the reason for the season.
No matter what the situation, I've got you covered! What follows is a comprehensive list of play-based gifts you can quickly snag for your child or grandchild that will help them understand the reason for the season.
1. Play Nativity Sets
Keep your children's hands off your fragile sets while they engage with the story of Christmas by setting out a toy set that's perfect for little hands! Here are a few recommendations!
See this set in action in this post: Everything You Need To Throw An Epic Birthday Party For Jesus.
---
This set is perfect for babies and toddlers and is durable enough to keep for many years! See it on Amazon.
---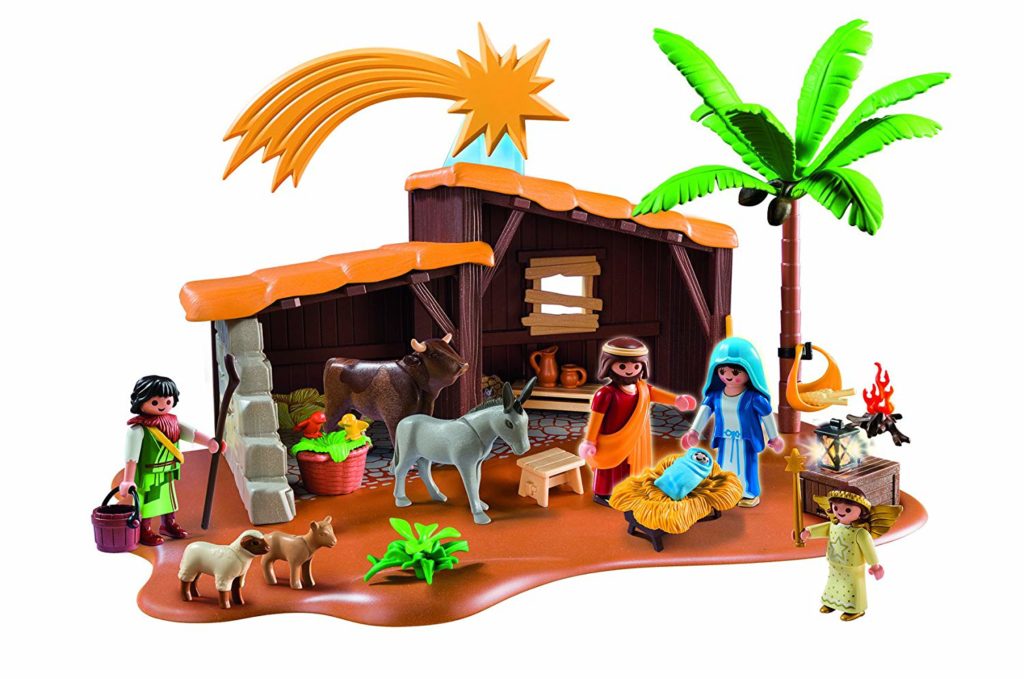 This is a newer version of the set we have in my house. As with most Playmobil sets, it comes with a lot of small pieces, but we love the details in the pieces! See it on Amazon.
---
This is an add-on set to the Playmobil nativity set above. We love to take these wise men on an adventure around our house each December. They love to hang out in terrariums, the sink, and under beds as they search for the baby Jesus. See this set on Amazon.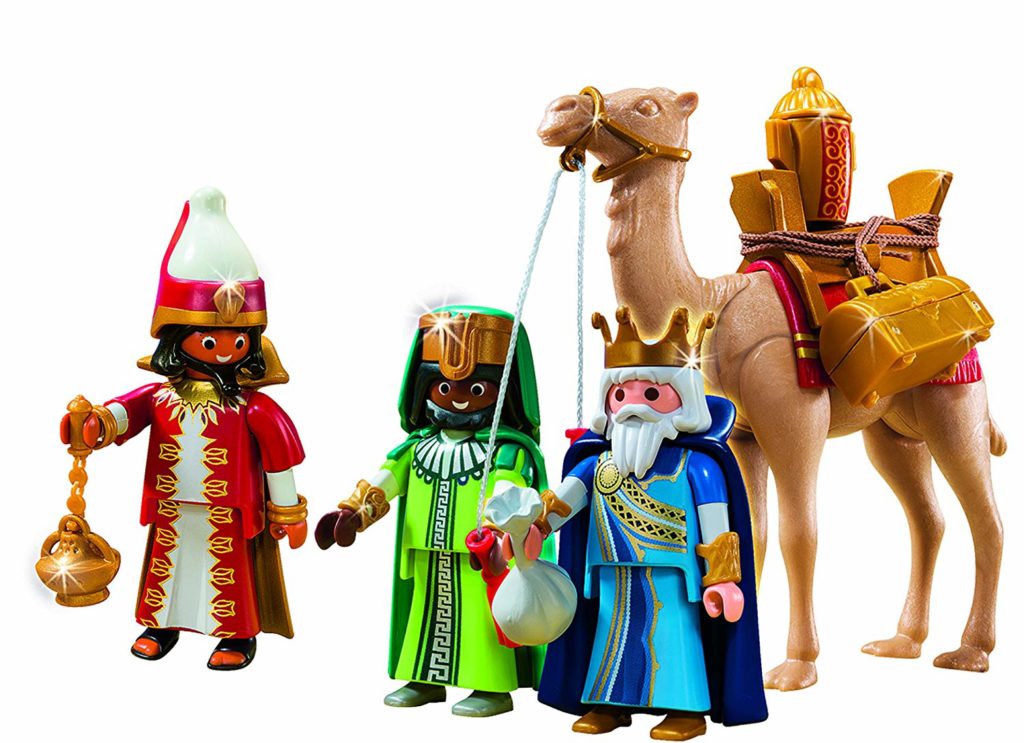 >>Related Reading: One fun (and surprisingly meaningful) way to celebrate Advent
---
Let's not forget the older kids! This one looks like it would be super fun to put together! See this set on Amazon.
>>Related reading: 10 Must-Have Gospel-Centered Christmas Picture Books
---
2. Costumes and Puppets
For several years, I brought a pile of costumes to my extended family Christmas. Every kid got to choose one and I directed them into various positions as we acted out the story. Even kids that had never before heard the Christmas story got a chance to participate! One of my cousins recently told me that this was her favorite part of those Christmas dinners. If you'd like to do something similar, here are some costumes and puppets that can help.
If you'd like to start small and cheap, try out these paper masks! You could also use them for a photo booth. Next year, send the pictures out as Christmas cards! See this set on Amazon.
You could totally use the old shepherd-in-a-bathrobe trick, but if you want to class up your skit a bit, snag a few of these costumes! See this costume on Amazon.
---
Want to start REALLY small? Use the finger puppets to re-enact the Nativity story! See this cute set on Amazon.
---
3. Games and Activities
If you'd like something simple to do with kids on Christmas Day, check out these ideas, including my free list of 20 bedtime activities to put "Christ" back in Christmas for your little one. Get that here. 
This fun Nativity-based game would be perfect for young and old alike! See this one on Amazon.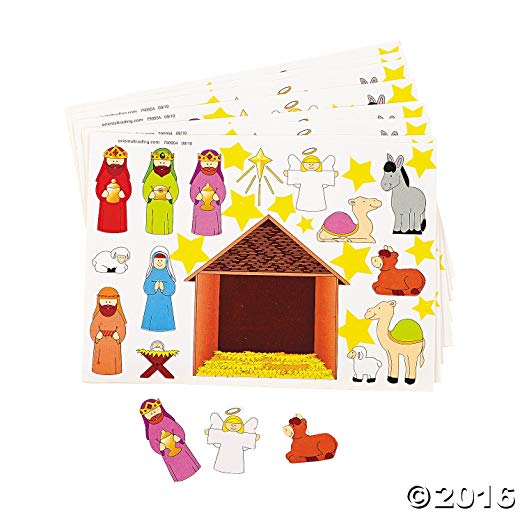 These sticker scenes would be really fun to do in church or at home! See this set on Amazon.
---
4. Elf-on-the-shelf Alternatives
If you have a little more time and are looking for some Bible-based alternatives to the Elf-on-a-shelf, check out these two ideas!
This cute little guy goes searching all through the house in the days leading up to Christmas! There's a book that goes along with this one, explaining the game. You could certainly do this in a single day as well, instead of stretching it over all the Advent season. See the Shepherd on the Search on Amazon.
This is similar to the Shepherd game, except with a star instead! This one also comes with a book. See The Star From Afar on Amazon.
---
So there you have it! The ultimate list of Nativity gifts for kids to help them experience Jesus' birth through play.
Remember to grab my free list of 20 bedtime activities to put "Christ" back into Christmas! Click here or on the picture below to get it.