As an Amazon Associate I earn from qualifying purchases. This post may contain affiliate links. See my full disclosures, Terms of Use, and privacy policies on my "privacy" page. I never recommend a product I don't love.
---
There's a lot in the news these days about racism and prejudice and diversity.
Does talking about diversity and prejudice and racism with your kids make you break out in hives?
Let's talk about that today. (I like talking about things that make us squirm!)
Talking about racism and prejudice and diversity is non-negotiable in our world. We can't pretend these things don't exist, even in areas where there is little diversity. But the conversations don't have to be negative. There is hope!
If you enjoyed this video, make sure you subscribe on Youtube or Like my Facebook page so you'll get notifications when new videos are up! Each one contains short, sweet, hope-filled ideas for spiritually parenting our kids.
We were leaving the doctor's office when it happened. My very loud 4-year-old saw a man that had darker skin than us and was wearing a turban and he started laughing. 
Through chuckles he said, "that man looks funny!" and no matter how much I tried to shush him, he kept up with his loud statement that this man looked funny. I'm not sure if the man noticed because we had already passed him, but I was thoroughly embarrassed. I realized that my little guy hasn't had a lot of exposure to people who look different.
And it's time to change that.
Diversity is so beautiful, and more than that, diversity was God's very good idea. He made us different from each other in many ways, and he did it on purpose so that we could learn from each other.
But sin and brokenness have twisted diversity in horrible ways. Our kids grow up not trusting people who look different, or laughing at them.
I saw a video online where small white children were laughing at a child with darker skin, even going so far as to hit the little boy in front of his mom and run them out of the playground. It makes us feel sick and it SHOULD. 
Sin has twisted diversity and caused slavery and colonialism and genocide and residential schools and all kinds of awful things. Almost worse, it has created the "bystander syndrome" where many people stand by and watch, hoping that someone else will make it stop.
But there is hope, and our kids need to know that.
The gospel of Christ is not just that our personal sins can be forgiven, but that our cultural wrongs can be made right.
His power to live in peace and love and holiness applies to us individually, and to us as a group. Diversity can become a beautiful thing when those of us who are in Christ start living it and preaching it. But we can't just celebrate diversity. We're going to have to stand up against systemic racism, all of us uniting our voices together so that no group of people is systematically discriminated against.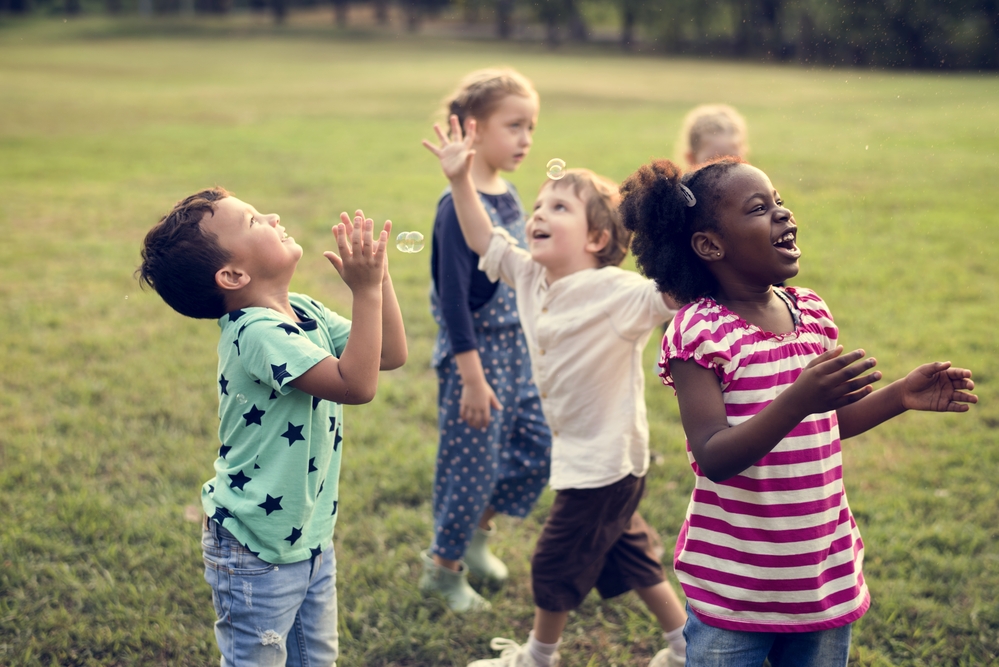 How to talk about racism with kids? Read books!
Reading books that a) talk about diversity, or b) have main characters that are BIPOC, or c) actually talk about racism are all a GREAT way to help your family talk about these issues in the safest space: your home. ​Books are an easy way to have these conversations without feeling like you have to know it all or do it all.
Trillia Newbell has written the most fantastic children's book on this topic that I have ever read. It's called "God's Very Good Idea: a true story about God's delightfully different family".
It talks about this very thing: that God made us different on purpose. It was a very good idea. But sin broke it. Ruined it. But…that's not the end.
Prejudice and racism and slavery do not have the last word. 
Because as Trillia says in her book:
"This is God's very good idea: lots of different people enjoying loving him and loving each other. God MADE it. People RUINED it. He RESCUED it. He will FINISH it."
With the help of the Holy Spirit, we and our children can live in this and show the world a better way. God's intended way. 
So you need to go and get yourself a copy of Trillia's book. (And I'll leave suggestions for MORE books below!)
If you love the books I suggest, you can download my free list of the 10 best Christian picture books!
More Christian Picture Books Dealing with Racism and Diversity
My Breakfast with Jesus is a beautiful brand new book that shows how children in different cultures start their day with breakfast and Jesus!
Maybe I Can Love My Neighbor Too depicts a beautifully diverse cast of urban characters who show God's love to each other, crossing ethnic, class, and religious boundaries. It would be a wonderful companion to God's Very Good Idea.
Love Made is a poetic rendition of creation, reminding children that love made the world, and love can also bring children into a wonderful family. The family depicted at the end is black, which was a delightful twist when I first read it to my kids.
The author, Quina Aragon, also curated this list of Gospel-focused books on racism on the Gospel Coalition blog.
This book about the incredible dreams and plans God has for your child's life will probably make you tear up. I love that the main character is a little black girl.
One Big Heart celebrates the thing we all have in common – one big heart!
**If you have encountered other Christian picture books dealing with racism and/or diversity, please let me know! I'd love to continue to update this list.
If you'd like more books, here are some lists by other bloggers! I only recommended ones I've personally read, so you can be sure there are more that I haven't read yet!
Articles on talking about racism/diversity with kids from BIPOC writers
When it comes to talking about racism and diversity with our kids, we DEFINITELY want to listen to those who have traditionally not been invited to the table: Black, Indigenous, and other People of Color. These articles are all written by BIPOC Christian women. Let's listen and learn together.
If you prefer video, here are two must-watch videos from Christian bloggers, Angelica K Duncan and Timberley Gray.
BONUS: This list from Common Sense Media has a TON of great articles, all sorted by topic. I trust Common Sense Media for good recommendations for movies and books for my family.